The writer's top priority
Every time I take on a writing assignment, my focus remains on the article's audience, which comprises three entities.
The people reading the published piece, which

ranges from the general public to a particular shared-interest demographic. It's about providing content holding specific value to the targeted readership.

The individuals I'm writing about,

which requires being accurate with information and presenting quotes in their intended, contextual meanings. It's about fairness.

The publication's editor

, which means understanding exactly what the editor expects and meeting the assigned article length and deadline, keeping the editor informed of challenges to both. It's about repeat business.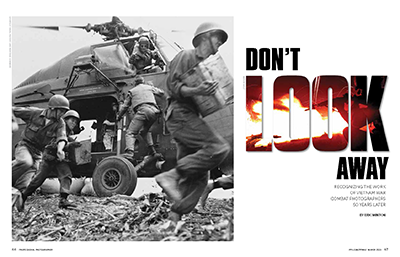 Professional Photographer
March 2023
"Don't Look Away:
Recognizing the Work of Vietnam War
Combat Photographers 50 Years Later"
(Links open PDF)
Editor's Note
"Eric saw the opportunity to convey a historical perspective to you while commemorating the work that U.S. combat photographers did in the Vietnam War. His experience as a military spouse and senior advisor to the U.S. Vietnam War Commemoration came together with his understanding of PPA and its members to bring an unforgettable story.
—Jane Gaboury, Director of Publications,
Professional Photographers of America