The Officer
Reserve Officers Association, Washington, D.C.
2006-2010+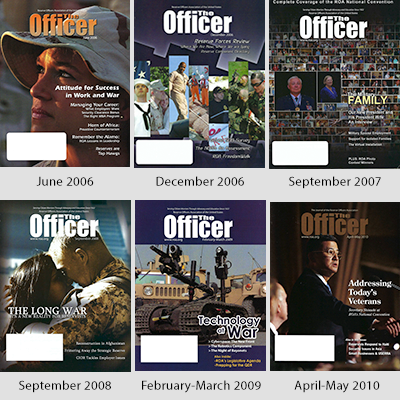 Hired by the Reserve Officers Association (now the Reserve Organization of America) as managing editor of its 10-issues-per-year magazine, The Officer, I started on January 3, 2006, with one assistant, a part-time copy editor in Cincinnati, Ohio, and a graphic design firm. The assistant bailed in two weeks, and differences of vision forced me to part ways with the graphic design firm at the end of March. They insisted they owned the magazine's design, so with only two weeks before press date for our May issue, I enlisted the graphic designer who worked with me on the AUSA Profile of the U.S. Army to do a complete redesign of The Officer. We made deadline with a better product, according to all feedback, including ROA's executive director, LtGen (USMC Retired) Dennis McCarthy.
Simultaneously, my wife received orders to transfer to Hill Air Force Base, Utah, so ROA contracted me to create a turnkey operation for producing The Officer. Working remotely, I built a team of editors (including the copy editor I inherited), writers, and graphic designers across the continent. By streamlining production through new technology and continuous process improvement, I reduced production costs for ROA by almost 30 percent, even with my expanded talent pool. As for collaboration, ROA awarded me, a contractor, its Employee of the Quarter award in December 2008. For family health reasons I left ROA in the summer of 2010, but I twice succeeded my successors, being hired as interim editor from April-July 2012 and again in November through December that year.
"Eric has eliminated the all-too-familiar cost overruns, has met all deadlines despite staff and personal hardship, and has greatly improved the look of The Officer Magazine."
— Chairman's Special Award
Reserve Officers Association of the United States Publications Committee
The Association of the United States Army
Institute of Land Warfare, Washington, D.C.
2004-2005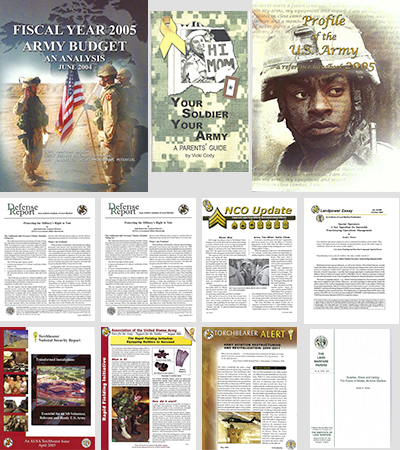 My title was Copy Editor, but my duties ran the gamut of the editorial spectrum when I worked for the Association of the U.S. Army's (AUSA) Institute of Land Warfare. My wordsmith assignments ranged from proofreading publication galley sheets, copy editing defense reports and briefings, and substantive editing of academic papers. I was managing editor for two major publications: the Profile of the U.S. Army—A Reference Handbook, distributed to Army personnel, miitary families, and war colleges; and Your Soldier Your Army: A Parents' Guide by Vicki Cody, wife of the then vice chief of staff of the Army, distributed through Army Family Support Centers.
---
The editor's top priority
ROA expressed two specific goals when they hired me as managing editor of The Officer: to cut costs and meet publication deadlines (the magazine hadn't been delivered on time in many months). I added another priority: the audience, not merely the existing audience but the one we needed in order to align with the association's overall operational goal of reversing its downward trend in membership by recruiting more serving Reservists. For The Officer, that meant appealing to younger servicemembers. In addition to shifting the focus of our content to current military issues and service conditions, I hired young graphic designers (my chief designer, who did the redesign, was in his mid-20s) to revise the magazine's look: then, I got out of their way. ROA's membership began an upward trajectory and tilted toward a younger demographic. I also received several letters and phone calls from World War II veterans lauding us for the magazine's more interesting articles and exciting new look.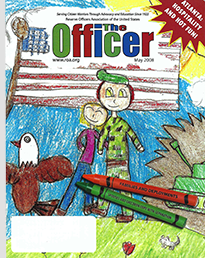 I did take a beating over the cover to the right, the only time in my four years at ROA that LtGen McCarthy asked to see any portion of the magazine before we went to press. He had heard from influential senior ROA members that the cover was "disgraceful." It was a crayon drawing by an 11-year-old girl honoring her deployed mother, which is explained on the Table of Contents. Hearing that, LtGen McCarthy said, "Run it." Click on the image for a PDF of the entire magazine.