---
"Welcome Home!" Camp Legacy Mayor

United States of America Vietnam War Commemoration
May 11-13, 2023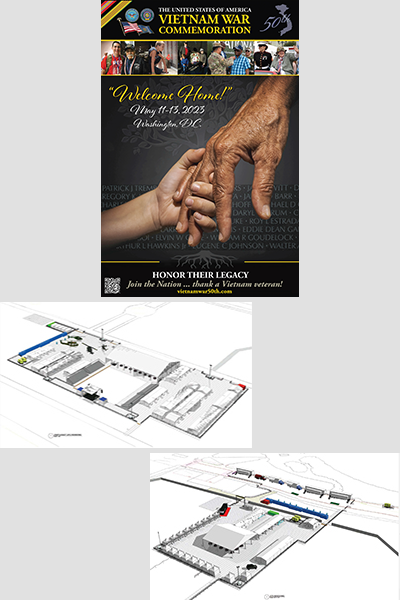 Link to website
The Vietnam War Commemoration, chartered by Congress in 2008 and stood up by President Barack Obama in 2012 as an office under the Secretary of Defense, has a mission to use the 50th anniversary of the Vietnam War to thank and honor all Vietnam-era Veterans and their families for their service and sacrifice during the period from 1 November 1955 to 15 May 1975. A centerpiece effort was "Welcome Home! A Nation Honors Our Vietnam Veterans and their Families" 11-13 May 2023, on the National Mall in Washington, D.C. The operation included a major multimedia concert, ceremonies, and a "historical walkway" with museum-calibre displays and various associations' and services' participation. I was hired in April 2022 to use my magazine writing talents and associations experience to build partnerships and promote "Welcome Home!" I was working with the Commemoration's new public engagement branch chief, Navy Commander Brian Wierzbicki, to launch the publicity campaign when circumstances forced the two of us into a new role: leading the team to build the "historical walkway," which we christened Camp Legacy.
We had just over eight months to accomplish our mission. Except for my experience working trade shows and how amusement parks interact with their audiences, neither of us had hands-on experience with such a task. While dealing with National Park Service turf restrictions and Department of Defense regulatory limits, we planned Camp Legacy, recruited participation, and, with valuable assistance from the U.S. Army Corps of Engineers, oversaw the contract for its construction and operation. On the JFK Hockey fields adjacent to the Reflecting Pool between the Lincoln Memorial and World War II Memorial, and across Independence Avenue in West Potomac Park, we built two sites of tents housing 98 exhibitors as well two venues for 26 performers and educational programs. I was appointed the Mayor of Camp Legacy, overseeing all operations during the event. I also organized a ceremony at Nationals Park honoring Vietnam Veterans, Gold Star Families, Donut Dollies, and Vietnam Veteran Nurses (for International Nurses Day) before the Washington Nationals vs. New York Mets Major League Baseball Game.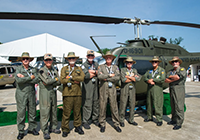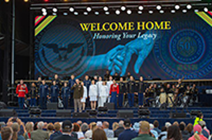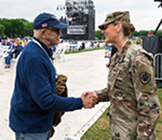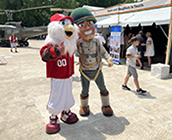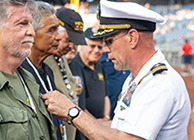 The key to our success was building a collaborative community among the exhibitors through planning summits and personal communications. Any problems that arose, our exhibitors rose to meet the challenges as a cohesive force. Welcome Home! and Camp Legacy were considered great success by all those involved, and I was awarded my second Office of the Secretary of Defense Medal for Exceptional Public Service.
"Mr. Minton's resolute initative, superior professional skills, and tireless efforts produced the unprecedented success of the three-day 'Welcome Home! A Nation Honors our Vietnam Veterans and Their Famlies' event. ... His countless hours of research and preparation for this event resulted in over 3,000 of our Nation's Vietnam Veterans and their families receiving the thanks and honor they rightfully deserve for their service and sacrifice."
— Citation for the Office of the Secretary of Defense Medal for Exceptional Public Service
Writing For a Live Audience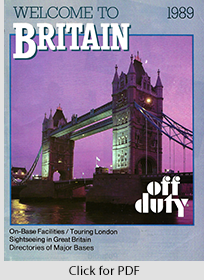 My first opportunity to edit a special edition magazine came when Off Duty/Europe assigned me to develop the publisher's first Welcome to Britain guide in 1989. They already had produced such guides for other European locales, and though I used those as my template, my supervising editor left the content up to me. My first hurdle was determining my audience. The publication was targeted to American service members. Being the spouse of an Air Force officer then stationed in England, I had friends who loved exploring the region and indulging in its culture. For every one of those, however, quadruples more weren't so adventurous in a foreign country, and when they did wander forth, they searched out back-home favorites, like McDonald's and cinemas. Even pubs didn't fit in their comfort zone.
The Off Duty Welcome to Britain guide had to serve both audiences. I came up with a writer's trick by selecting a friend of mine, a captain, who loved exploring local cultures on her assignments, and a ubiquitous young enlisted service member who would stay on the military installation every weekend. I imagined both were standing behind me as I planned the content and wrote the copy; she watched over my right shoulder, he watched over my left. I concentrated on writing in a way that kept both engaged, giving her more ideas for exploration, convincing him to expand his experiences one small step at a time. While the technique kept me constantly attuned to the guide's prospective audiences, I also discovered that my prose had more instant energy, as if I were performing to a live audience with my words,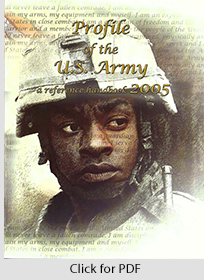 The over-my-shoulder muse became a standard writing technique for me, but 15 years later another special editorial project required an even more diverse audience pairing. The Association of the U.S. Army assigned me to write and edit a complete overhaul of their Profile of the U.S. Army. The book was handed out to new recruits; it also was provided to the Air Force's Air War College. That's an audience ranging from young Army spouses, many still learning English let alone how the U.S. government is structured, to colonels, many with master's degrees. Our prose and graphics needed to be intelligently presented but simple to understand.